Saint Patrick's Day is about three things: Eating green foods, wearing green outfits and celebrating all things Irish with your friends and family!
The greenest day of the year is rolling around on March 17th, and no Saint Patty's Day would be complete without plenty of green foods to enjoy with your kids and your friends.
To save you the trouble of spending the day in the kitchen, we've come up with five delicious, healthy, kid-friendly recipes that we're sure you'll love. Packed with plenty of healthy foods, these guilt-free Saint Patty's Day recipes will be a hit for everyone in the household!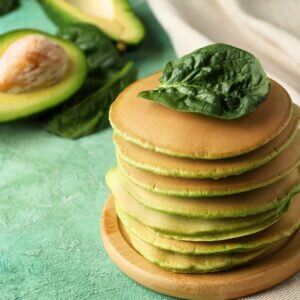 Leprechaun Pancakes
Not only are Leprechaun Pancakes fun to make, but they're a sure-fire way to get more veggies into your kids as well! This recipe makes six servings, so make sure to get extra spinach if your leprechaun's are hungry!
Ingredients:
4 cups spinach

2 eggs

1 tbsp coconut oil

1 tsp vanilla extract

2 tbsp honey

½ cup Greek yogurt

¼ cup milk

1 ½ cup flour

1 ½ tsp baking powder

½ tsp salt
Method: 
Combine everything except the flour, baking powder and salt in a blender and combine until smooth.

In a separate bowl, combine the flour, baking powder and salt together. Add dry ingredients to the blender and blend until combined. If required, add more milk to loosen up the mixture.

Heat up a pan on the stove top, and pour mixture into desired pancake size. Recommended size for this recipe is ¼ cup per pancake.

Once golden brown and bubbling, flip and then cook for another two minutes.

Drizzle with maple syrup and top with berries. Enjoy!
---
'Luck of the Irish' Smoothie
Want a smoothie that tastes like mint chocolate, without the guilt?
You're in luck! This 'Luck of the Irish' Smoothie is packed with healthy ingredients to make you feel good, with just enough chocolate involved that your kids won't know what's in it.
Ingredients:
¼ cup avocado

¼ cup Greek yogurt

¼ cup Vanilla protein powder (optional)

½ tbsp agave or honey

Handful mint leaves

¾ cup milk

½ cup kale

½ cup ice

1 tbsp mini chocolate chips
Method:
Combine everything except the chocolate chips in a blender and blend until smooth.

Once smooth, add in the chocolate chips and blend for 15 seconds.

Pour into a glass, garnish with more mint leaves and enjoy!
---
Rainbow Fruit Skewers
What do children and leprechaun's have in common? They both love rainbows!
If you're planning a Saint Patrick's Day celebration and you want to include some kid-friendly, healthy snack options, these rainbow fruit skewers are a simple addition that everyone will love. They're also simple enough that your kids can help make them!
Ingredients:
Watermelon

Grapes

Rockmelon

Dragon fruit

Strawberries

Blueberries

Any other fruit you may desire
 Method:
Slice the watermelon and rockmelon into small chunks. Slice the dragon fruit in half, scoop out the white centre and slice into chunks. Cut the strawberries in half.

Place the fruit on skewers in alternating layers. Alternatively, hand the skewers to your kids (if they're old enough) and let them create colourful, fruity magic!

Garnish with mint leaves and enjoy.
---
Healthy Green Pizza
Now, we know the words healthy, green and pizza don't go in the same sentence, but we have a recipe that's not only delicious, but healthy too.
Ingredients:
2x naan flatbreads

2 tbsp melted butter

2 cloves minced garlic

¼ tsp dried parsley

¼ tsp dried basil

2 cups chopped broccoli florets

1 ½ cups grated cheddar, Gouda, and Parmesan cheese

2-3 tbsp crumbled feta cheese
Method:
Preheat the oven to 180 degrees C.

Melt the butter with the garlic, parsley and basil, then spread evenly onto naan breads. Bake for 8 to 10 minutes until lightly golden, then rest.

Remove the stems from the broccoli so that only the florets remain, then steam florets until bright green and tender. A simple way to do this is to place them in a bowl, pour boiling water over and then strain them.

Once steamed, add the three cheeses and stir to combine. Spread mixture over top of naan breads, then add crumbled feta and return to the oven.

Cook for 15 to 20 minutes or until crispy and cheese is melted. Once melted, remove from the oven and enjoy!
---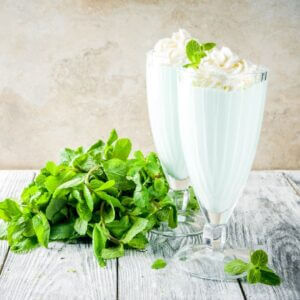 Healthy Shamrock Shake
Have you ever had the McDonald's Shamrock Shake? While it's tasty, it's not very healthy for you, so we've come up with a healthy alternative. You'll never want to go back!
Ingredients:
¾ cup milk

½ cup greek yogurt

1x avocado

½ tsp vanilla extract

1 cup frozen spinach

10 – 15 mint leaves

2 tbsp honey

1 cup ice
Method:
Add all of the ingredients to a blender. Blend until smooth, adjusting the amount of ice and milk as required.

Once shake reaches desired consistency, serve with whipped cream and enjoy!