It's almost Easter time and for many of us, that means chocolate eggs and hot cross buns for breakfast, lunch and dinner. We all know how easy it is to overindulge over this period but there is a way to enjoy this time while keeping healthy and still enjoying chocolate (in moderation).
First things first, don't start Easter early. While seeing all the Easter displays in every store is tempting, try to save the chocolate eating for dedicated Easter days, like Good Friday and Easter Sunday. If the kids are begging you for an early Easter egg, try making some healthy Easter inspired snacks for them instead!


Exercise your control. Instead of eating chocolate for every meal, just have it as an after meal treat. Only allow your kids to eat their chocolates once they have finished a full, healthy meal. Even then, only give it to them in moderation. Try buying less but more expensive chocolate, it tends to taste better and you don't need as much to satisfy your chocolate cravings!

Have a huge Easter egg hunt, and make the kids work for their chocolate! Spread the hunt to all corners of your backyard, or every room in your house. The kids will be so excited to find their Easter eggs, they'll be running around all over the place, they won't even realize they're being so active.
Another way to keep the families mind off chocolate is craft. There are so many Easter themed craft activities that you can do. Try making Easter hats and baskets, decorate eggs, make egg cosies and finger puppets! Or cut back on the number of actual Easter eggs you give your family and go with nonedible gifts instead. Think soft bunny toys, bunny pyjamas and slippers or an Easter-themed storybook.
Finally, to keep the Easter theme alive, but also keep your family healthy, make up some healthy Easter inspired snacks and meals. A fantastic recipe is Easter Chocolate Super-Mousse which is great for a breakfast treat or after dinner dessert! It's made with raw cacao powder which is packed full of antioxidants.
Another great healthy egg alternative is homemade Eggceptional Kid's Easter Eggs. These eggs are a colourful, easy to make treats that offer a fantastic alternative to chocolate eggs. They're made using superfood powders to create natural colouring instead of chemical dyes. See the recipes for these alternatives below.
These ideas will help you and your family stay healthy over the fun Easter period.
Bonus Idea: Remind your children how much the Easter bunny loves carrots and encourage them to munch on those for a change..
Easter Chocolate Super-Mousse
Ingredients
1 ripe banana
1 ripe avocado
4 teaspoons of Coconut Oil
2 or 3 teaspoons of Manuka honey agave syrup, rice malt syrup
4 tablespoons Cacao Powder  
1 tablespoon unsweetened almond milk
A sprinkling of goji berries, cacao nibs, coconut or any other superfood you want to garnish it with.
Directions
In a food processor blend together the banana, avocado, coconut oil, honey or other sweetener.

Once the mixture is smooth and creamy, add the raw cacao powder and honey until fully mixed.

Spoon into bowl or glasses and sprinkle your choice superfoods on top.

Place into the fridge for 2-3 hours before serving.
Serve in a small glass or bowl with blueberries or raspberries on top, or cut a small Easter egg in half and serve in that for an extra treat.
Recipe credit: https://www.goodhealth.co.nz/recipes/article/have-a-superfood-easter
Photo: https://www.quericavida.com/recipes/easter-eggs-filled-with-chocolate-mousse/5e54c9fa-1c76-4aac-90b7-872b0f11a6c3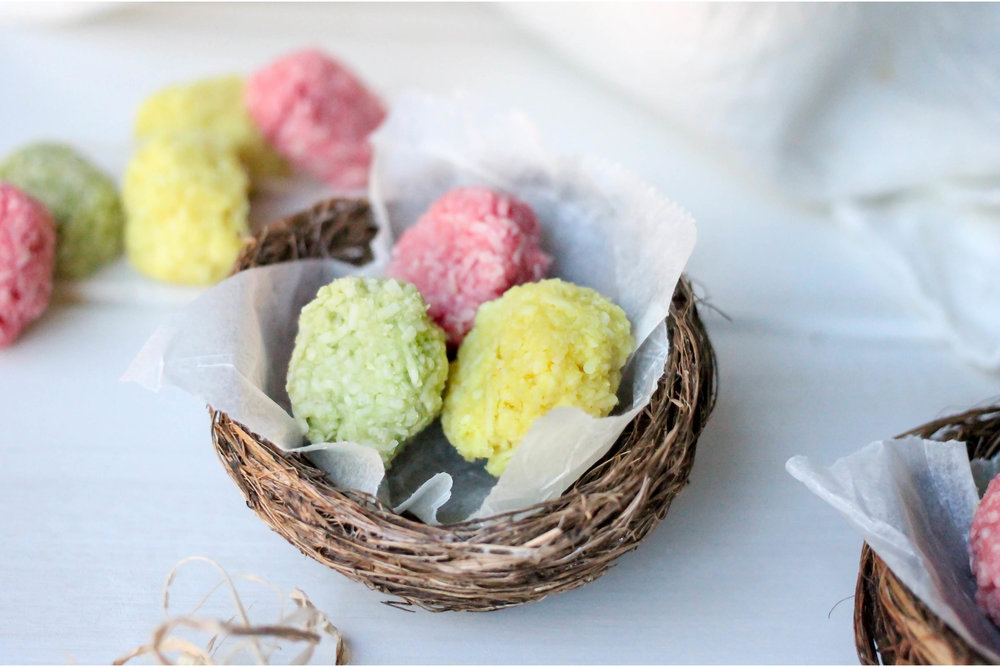 Eggceptional Kid's Easter Eggs
1/4 cup organic coconut oil, melted
2 tbsp organic almond milk or milk of choice
1 tbsp organic raw honey or organic brown rice syrup
2 cups organic shredded coconut
1/8-1/4 tsp of superfood powder of choice:
Yellow: organic turmeric powder
Pink: beetroot powder
Green: wheatgrass powder, spirulina, alfalfa powder etc.
Purple: acai powder
Method
    Add all ingredients to a blender in the order they are listed.

    Pulse 8-10 times until mixtures hold together, scraping down the sides of the blender if necessary.

    Divide mixture evenly between 3 small bowls.

    Colour each bowl of mixture using your superfood powders of choice, using between 1/8 -1/4 of a teaspoon to reach the desired colour.

    Mix well with a spoon or spatula until the power is well incorporated and colorful

    Roll teaspoon size balls of mature into little ovals/eggs or desired shapes. (This is great for the kids to get their hands on!)

    Refrigerate eggs for 20 minutes or until firm. Enjoy!
Eggs will keep in an airtight container in the fridge for one week.
Recipe + Photo: https://nourishmemum.com/home/superfoodeaster