Cooking dinner has never been so quick and easy!
This Delicious"cauliflower curry bake" is so easy to make,
Pick up all your ingredients from your local Earth Markets store,  and watch the video below as Tsambica puts it all together in minutes!
INGREDIENTS
• 1 large cauliflower, broken into roughly 4cm florets
• 30g organic cold pressed coconut oil
• 1 large brown onion, finely diced
• 11⁄2 tsp cumin seeds
• 1 tsp medium curry powder
• 1 tsp mustard powder
• 3⁄4 tsp black mustard seeds
• 1 tsp salt
• 2 green chillies, deseeded and finely chopped
• 400ml organic coconut cream
• 120g raw cashew nuts
• 5g parsley, finely chopped
PRO TIP: You can substitute the spices in this recipe with the Earth Markets Curry Delight Mix – available from Earth Markets.
METHOD
1. Preheat the oven to 180C fan.
2. Steam the cauliflower for about 5 minutes or until starting to soften. Remove and set aside to cool a bit.
3. Put the coconut oil into a 24cm round casserole dish and put over a medium heat. Sauté the onion for about 8 minutes or until golden. Add the cumin seeds, curry powder, mustard powder, mustard seeds, salt and chillies and cook for 4 minutes, stirring occasionally.
4. Pour the coconut cream into a high speed blender or nutribullet, add the cashews, blend until smooth, add to the pan and stir to combine.
5. Add the cauliflower, stir gently, and simmer for another minute before removing from the heat.
6. Sprinkle parsley over the cauliflower. Wipe the inside of the pan clean to stop the cream from burning and place in the oven. Bake for about 8 minutes or until the sauce is bubbling and the cauliflower is hot. Turn the grill to high and grill to brown the top for 4 minutes. Remove from the heat and allow to cool for 5 minutes before serving. Serve with your choice of protein
Watch the Recipe on Tsambica and Voulla's YouTube Channel
To take the hassle out of reading, you can scan the QR code on the recipe card which will take you straight to Tsambica and Voulla's YouTube channel so that you can follow the method on video.
Earth Markets Rewards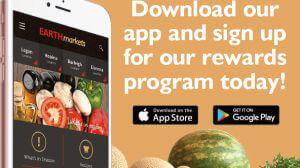 As well as other benefits, the Earth Markets App offers loyal customers a fabulous rewards program.