DINNER SORTED – CAULIFLOWER CURRY BAKE
Let us take the stress out of dinner tonight with our quick and easy take home DINNER SORTED meal packs.
Cooking dinner has never been so quick and easy!
Earth Markets have introduced the convenient Dinner Sorted packs from Tsambica and Voulla. Every month we will introduce a new meal. This month's recipe is the delicious "cauliflower curry bake". The meals are packed with the exact ingredients you need and the recipe card to create a meal for your family.
Watch the Recipe on Tsambica and Voulla's YouTube Channel
To take the hassle out of reading, you can scan the QR code on the recipe card which will take you straight to Tsambica and Voulla's YouTube channel so that you can follow the method on video.
Earth Markets Rewards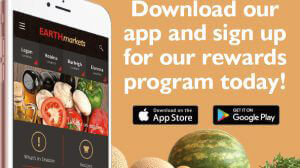 As well as other benefits, the Earth Markets App offers loyal customers a fabulous rewards program.