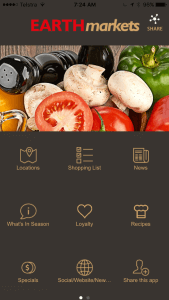 We value our customer's loyalty and would like to reward them for supporting their Local Fruit Shop, Earth Markets. Therefore we have introduced a loyalty card available only through our app. The Earth Markets app is available for Android or iPhone.
You can download our app here:
ANDROID:  https://play.google.com/store/apps/details?id=com.app_earthmarkets.layout
APPLE: https://itunes.apple.com/us/app/earth-markets/id1122826816?ls=1&mt=8
 Or search for Earth Markets on you device
To Benefit from our Loyalty Programme is easy:
USING THE LOYALTY CARD
Customers can access the Loyalty Program through the Earth Markets App
For every $10spent you will receive a stamp. i.e $10 spend=1stamp/$20 spend=2xstamps/$40 spend = 4xstamps..and so on…….
To receive the stamp you have to pass your device over to the cashier who will verify and scan your loyalty card
Once you have received 10 stamps you will be rewarded with a $10 voucher that you can redeem in store
When you redeem your $10 voucher you will be issued with a new stamp card
TERMS AND CONDITIONS
By Downloading the Earth Markets app and commencing to use the loyalty card on the app and claiming any Loyalty Benefit, you agree to be bound by, and your participation in Earth Markets  Rewards will be governed by, these Terms and Conditions.
Membership
To become a Member you simply download the Earth Markets app and the loyalty program is built in to the app.
There is no joining fee or any ongoing annual fee to become or remain a Member
If you do not wish to download or use the Earth Markets app, you will not be able to take advantage of any Member Benefits.
Membership is non-transferable.
Members cannot combine their points to receive a voucher – one loyalty card per customer.
Only available for Retail customers and excludes Wholesale
Vouchers, Coupons and other offers used are not eligible to receive a stamp
You can earn stamps as follows:
a) you will earn one stamp for every $10 you spend at any Earth Markets Store
b) In order to earn stamps, you need to present your loyalty card via your iPhone or android only, to our cash register staff prior to finalizing your transaction.
c) once you've received 10 stamps you can redeem a $10 voucher which you can use towards your next shopping experience at any Earth Markets store.
The loyalty program can be used across all Earth Markets Stores.
The only way to use the loyalty card is via the app and only at the time of purchase in the store.
Customers cannot save receipts of proof of purchase for later stamps, loyalty cards must be stamped at the time of purchase in the store.
Any technical difficulties customers encounter which prevent them from using the loyalty card is not the responsibility or liability of Earth Markets.