This month we're going to give you our top tips on how to choose and store avocados. Plus we're also going to share a lesser known fact on how to ripen up avocados that are not quite ready for eating, so keep reading! 
Hass Avocados are grown in Bundaberg and they're readily available.  We're really pleased with the quality.  When you're looking for a ripe avocado, the trick is to look for a purple tinge to the skin, and if you gently press at the top of the stem, it will have a little give. If you're not planning on eating all your avocados at once, purchase a selection of green ones that will ripen at room temperature. Also purchase a couple that are ready to be enjoyed as soon as you get home.


How to naturally ripen avocados
If you're impatient and can't wait for your green avocados to ripen, a really good kitchen hack is to put your avocado in a brown paper bag. Add a banana (or apple), for a couple of days and watch your avocado change colour. Both bananas and apples  release ethylene gas which helps accelerate the natural ripening process. Go on, try it!

Now that you have plenty of avocados stocked at home, there are a myriad of creative and delicious things you can do with them—aside from smashed on sourdough with lemon.


Avocado recipes everyone will love
Guilt-free chocolate avocado mousse
If you're dairy intolerant or vegan and looking for a sinfully delicious dessert without the guilt, you can't beat Chocolate Avocado Mousse. All you need is 2 ripe avocados, ¼ cup of cacao powder, 3-4 tablespoons of almond milk, a splash of vanilla extract, and maple syrup to sweeten (start with a small amount and if it's not sweet enough, add more). No avocado mousse is complete without a couple of big fistfuls of chocolate chips, melted and then blended until smooth. It doesn't matter if your family aren't avocado fans, it can be our little secret.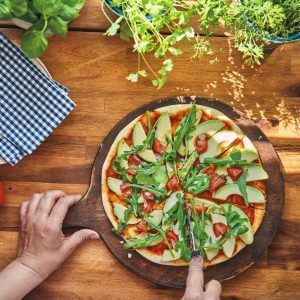 Our special Tijuana Pizza with Avocado 
Avocado is also amazing added to pizza. Cauliflower is also currently in season, so if you want to be super healthy, you can whip up a cauliflower base with a recipe, but the premade pizza bases work just fine. Stir fry mince with some chilli,  dice tomatoes, red kidney beans, mozzarella, jalapenos, and avocado, then pop on a pizza dish and cook until the pizza base is lightly browned and the cheese melted. For the final touches add a swirl of sour cream. This truly is delicious, you can thank us later.
Avocado Ranch Cob Loaf

For a winter warmer when friends pop over for dinner, try the avocado ranch cob loaf. It's super simple and will be a hit when entertaining. This recipe serves about 4-6 people. You'll need to chop the top off a cob loaf to form a lid, put that aside and hollow out the rest of the loaf. Set aside the bread, you'll need that for later.  You'll need two diced avocados, two-thirds of a cup of sour cream, half a cup of buttermilk, the juice of two fresh limes (or one big lemon), two teaspoons of garlic and one and a half cups of grated cheddar. Blend it all together and pour inside the cob loaf that you hollowed out earlier. Put the lid on and pop in the oven until lightly toasted. To use the bread you kept aside, simply toast it and artistically arrange it around the cob loaf for dipping.
And one recipe to add to your beauty regime:
Hydrating avocado face mask
Avocados are also great for making hydrating face masks. Being packed with healthy fats, the natural oils nourish and hydrate your skin. They are also loaded with antioxidants and vitamins that may also help reduce inflammation and redness. To make your own DIY hydrating face mask, simply dice one avocado, squeeze one lemon, add two teaspoons of honey and tip one third of a cup of yoghurt into a blender, then mix it all together. Once the mixture is smooth and creamy, simply lather it onto your face and relax for twenty minutes before washing it off. Greek yoghurt is said to be great for evening out skin tone, and honey may help with acne, so treat yourself and your skin to an organic facial sometime!
Enjoy making some of our avocado recipes?  Don't forget to tag us in on Facebook and instagram so we can share your results with our followers. You'll find Earth Markets at the following locations: Logan Hyperdome Shopping Centre, The Pines Shopping Centre in Elanora, Robina Town Centre at The Kitchens and Stocklands at Burleigh Heads.

If you can't find what you're looking for in-store, be sure to ask one of our friendly team members. We look forward to seeing you soon.