BANANAS WITH SALTED CARAMEL FUDGE SAUCE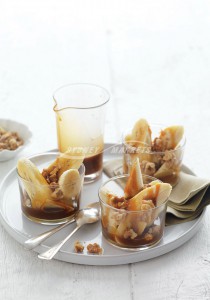 Serves – 4
Cooking Time – 8 minutes
Prep Time
 – 10 minutes
Ingredients
Salted caramel fudge sauce 
75g unsalted butter, chopped 
½ cup brown sugar 
¼ cup golden syrup 
½ cup cream 
1 tsp sea salt
TO SERVE 
4 ripe Lady Finger bananas 
¼ cup walnuts, toasted
Method
STEP 1: To make salted caramel fudge sauce, combine butter, sugar, golden syrup and cream in a small heavy-based saucepan. Stir over medium heat until butter melts and mixture is smooth. Reduce heat to medium-low and simmer, stirring occasionally, for 4 minutes. Stir in salt. Remove from heat and cool for 20 minutes.
This salted caramel fudge sauce is also delicious served with stewed apples or pears.
STEP 2: To serve, peel and slice bananas and arrange in serving glasses or bowls. Drizzle with warm salted caramel fudge sauce, sprinkle with walnuts and serve.
Recipe from Sydney Markets Website
Tiny Blueberry Cheesecakes
Makes: 6:
Ingredients:
75g unsalted butter
100g wheatmeal biscuits
1/2 tsp ground cinnamon
125g ricotta cheese
125g cream cheese
2 tsp finely grated lemon zest
2 tbs lemon juice
1/4 cup pure icing sugar
1 egg
1 egg yolk
150ml cream
200g fresh or frozen blueberries
Method:
Step 1: Preheat oven to 150°C.
Step 2: Melt the butter and set aside to cool slightly. Place the biscuits in a food processor and process until the mixture resembles fine crumbs. Add the butter and the cinnamon and whizz to combine. Line 6 muffin pans with paper muffin cases and press the biscuit mixture into the base of each. Refrigerate for 15 min to set.
Step 3: Meanwhile, place the ricotta, cream cheese, lemon zest and juice, icing sugar, egg and yolk, and cream in the bowl of an electric mixer (or use an electric hand beater), and beat until smooth. Fill each paper muffin case to within 1cm of the edge, then top with 3 or 4 berries. Bake for 25 minutes, then turn off the oven and leave them to cool with the door closed (this prevents them from cracking).
Caramelized Orange Compote
Prep: 15mins
Cook: 3mins
Serves: 4
Ingredients
4 navel oranges
1/4 cup brown sugar
1/2 teaspoon cinnamon
1 tablespoon julienned orange zest
Method
Step 1: Cut the rind off the oranges and cut the oranges into skinless segments, making sure all the pith has been removed.
Step 2: Place in a gratin dish or a shallow baking dish and sprinkle with the brown sugar and cinnamon. Top with the orange zest. Grill for 2 minutes or until the sugar melts.
Recipe from: allrecipes.com.au