MEALS FOR THE FAMILY
TRADITIONAL GREEK SALAD RECIPE

INGREDIENTS

4x Truss Tomatoes (Roma Tomatoes can also be used) cut in to wedges

1x Continental Cucumber, halved length ways and then sliced across

1x Green Capsicum, deseeded and thinly sliced

1x Red Onion, thinly sliced

200g Kalamata Olives, preferably seed included but can be pitted

300g Greek Feta Cheese thickly Liced

Dressing

60ml (1/4cup) Extra Virgin Olive oil

2x Table spoons of Red Wine Vinegar

1x Table spoon of dried Greek Oregano leaves

Salt & Pepper

METHOD

Combine the tomatoes cucumbers and olives in a large bowl. Drizzle 3/3 of the olive oil, followed by the vinegar and gently toss until combined.
Layer the capsicums, onion, and feta on top.
Drizzle the rest of the olive oil and sprinkle the oregano over the entire salad.
Serves 8

Preparation 15 minutes
Grilled Sweet Corn and Potato Salad with Piri-Piri Chicken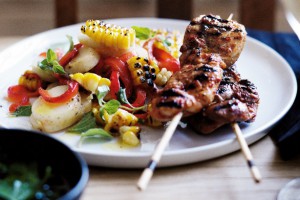 Prep Time: 35 mins
Cook Time: 40 mins
Serves: 6
Ingredients:
1 tsp sweet paprika
3 cloves garlic, halved
3 red bird's-eye chillies
1/3 cup oregano leaves
1 tbs red wine vinegar
160ml (2/3 cup) olive oil
8 chicken thigh fillets, each cut into 3 strips
400g washed potatoes
4 sweet corn, husks removed
1 large red capsicum
1 lemon, juiced
1 tsp ground cumin
2 tbs torn flat-leaf parsley
Method:
Step 1: To make chicken marinade, process 1 tsp salt, paprika, garlic, chillies, 2 tbs oregano, vinegar and 80ml (1/3 cup) oil in a food processor until smooth. Toss with chicken in a large bowl to coat. Refrigerate for 1 hour to marinate.
Step 2: Meanwhile, place potatoes in a pan of cold water, bring to the boil and cook for 15 minutes or until just tender. Drain. Cool, then thinly slice.
Step 3: Heat a chargrill pan or barbecue to medium. Brush corn with 1 tbs oil, then cook, turning, for 8 minutes or until lightly charred and tender. Cool. Cut corn kernels from cobs, keeping them together in large chunks.
Step 4: Meanwhile, in the same pan, cook capsicum, turning, for 8 minutes or until skin is blackened. Place in a bowl, cover and leave for 8 minutes, then rub off skin. Carefully cut flesh into thin strips (juices will be hot). Discard seeds.
Step 5: Increase heat to high. Thread 2 pieces of chicken onto each skewer. Cook the skewers, in 2 batches, for 4 minutes each side or until cooked through.
Step 6: Whisk lemon juice, cumin, parsley, remaining 1 tbs oregano and 60ml (1/4 cup) oil in a large bowl. Season with salt and pepper. Add potatoes, corn and capsicum, and toss to combine.
Step 7: Serve and enjoy!
Recipe from: Taste.com.au
Avocado and Mushroom Fettuccine
Prep Time: 10min
Ready In: 15min
Serves: 4
Ingredients:
1 large or 2 small avocado, sliced
Juice of 1 lemon
250g fettuccine
1 tablespoon prepared pesto sauce
1 tablespoon olive oil
1 onion, sliced
4 garlic cloves, sliced
200g mushrooms, sliced
2 teaspoons salt reduced soy sauce
Pepper
Whole or shredded basil leaves to garnish
Lemon wedges to serve
Method:
Step 1: Place the avocados on a plate and drizzle with lemon juice.
Step 2: Bring a large pan of water to the boil, and then cook the fettuccine.
Step 3: Meanwhile, heat the oil and stir-fry the onion for 1 minute over a
medium-high heat.
Step 4: Add the mushrooms and garlic and continue cooking, stirring
for 2 minutes.
Step 5: Reduce the heat to medium and place a lid on the pan. Cook
for 5 minutes, stirring once or twice.
Step 6: Remove from the heat and stir in soy sauce and pepper. Toss
the freshly cooked
Recipe from: Australian Avocados Website