PINEAPPLE & MANGO POPS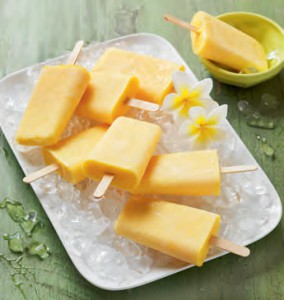 Preparation 20 | Makes 8
Bursting with fresh pineapple, luscious mango and creamy yoghurt, these frosty fruit pops take moments to make. Super cool and naturally sweet, they're the ideal summer treat. You can also use ice-block moulds or disposable plastic cups to make these pops.paddle pops
½ pineapple, peeled and flesh diced
1 ripe mango, peeled and diced
½ cup thick natural yoghurt
STEP 1: Place pineapple, mango and yoghurt into a blender. Blend until smooth.
STEP 2: Pour mixture into 8 x ⅓ cup capacity paddle-pop moulds. Freeze for 5 hours or overnight until frozen. Remove pops from moulds to serve.
RECIPE FROM THE SYDNEY MARKETS WEBSITE
Wholemeal Banana Pancakes
Ingredients:
2 large bananas
1 1/2 cups wholemeal self-raising flour
1 1/2 cups buttermilk
2 eggs, lightly beaten
1 tablespoon honey
Olive oil cooking spray
Honey and reduced-fat passion fruit yoghurt, to serve
Method:
Step 1: Mash 1 banana in a bowl (you'll need ½ cup). Place flour in a bowl. Make a well in the centre. Combine buttermilk, eggs, honey and mashed banana in a jug. Pour into well. Whisk until
smooth. Stand for 10 minutes.
Step 2: Spray a large, non-stick frying pan with oil. Heat over medium heat. Spoon 1/4 cup batter into pan. Cook for 2 to 3 minutes or until bubbles appear on the surface. Turn. Cook for 1 to 2 minutes or until golden and cooked through. Transfer to a plate. Cover to keep warm. Repeat with remaining batter to make 12 pancakes.
Step 3: Thinly slice remaining banana. Place pancakes on plates. Top with sliced banana, honey and yoghurt. Serve.
Recipe courtesy of: www.taste.com.au
Filo Fruits and Custard Tartlets
Ingredients:
2 egg yolks
50 g caster sugar
25 g plain flour
1/4 litre milk, warm
Vegetable oil
3 sheets of filo pastry
a variety of seasonal fruits cut into small slices or pieces
2 tbsp cream
Makes 6 tartlets in a greased muffin tin
Step 1: In a bowl, thoroughly combine egg yolks with sugar.
Step 2: Then stir in the flour, and lastly stir in the milk.
Step 3: Place in a saucepan on medium heat and stir until it thickens.
Step 4: Transfer to a medium bowl and mix well. Allow to cool.
Step 5: Preheat oven to 200°C.
Step 6: Brush a sheet of filo pastry with oil. Top with a second sheet of filo and brush with oil. Top with the last sheet of filo.
Step 7: Cut into 6 even rectangles. Gently line the greased muffin tin with the filo rectangles. The edges of the pastry can protrude from the top of the tins.
Step 8: Bake in preheated oven until the pastry is very lightly browned and the base has dried. It takes only a few minutes. Remove from oven and leave to cool.
Step 9: Prepare fruits. Refrigerate fruits if not using immediately.
Step 10: Just before serving, whisk the cream into the cold custard.
Step 11: Carefully remove pastry shells from the muffin tin.
Step 12: Spoon a little custard into the pastry shells and top with small slices or pieces of fresh fruit.