INGREDIENTS
8 baby beetroots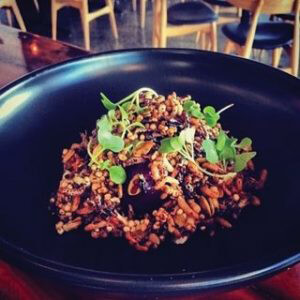 200g Persian feta
50ml cream
2 sprigs of thyme
500ml olive oil
1 orange zested
1 bay leaf
200ml Pedro Ximenez vinegar 
(or sherry)
200g organic puffed grains and cereal (puffed wheat cereal)
Salt flakes
White pepper
½ bunch chives
1 bunch watercress to garnish
METHOD
Wash and peel baby beetroots, place in a heavy based saucepan add olive oil, orange zest, thyme sprigs and bay leaves simmer on a very low heat 
for 90 minutes until tender. Once tender set aside 
to cool.
Whip the cream and Persian feta until smooth and fluffy. Season with salt and pepper to taste.
In a small saucepan reduce the Pedro vinegar over 
a medium heat until reduced by half, this will create a thicker vinegar and enhance the flavour.
To assemble – In a bowl spoon the feta on the bottom and smear out a little top the feta with drained beetroot, season with salt and pepper, put the grains in a medium sized mixing bowl and dress with the reduced vinegar and chopped chives, season to taste.
Spoon cereal mix all over the beetroots until covered. To finish place watercress scattered across the top of the salad.Recipe with courtesy
Chef Braden White, Rickys Noosa