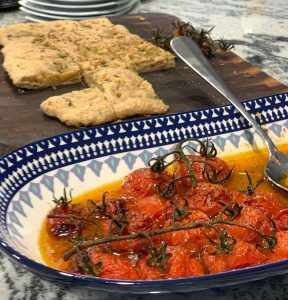 Preheat oven on 180 degrees celsius , fan forced
Wash tomatoes and arrange on a baking dish with high sides as there will be a lot of yummy juices
Drizzle with extra virgin olive oil
Season with sea salt, cracked pepper and oregano
Bake for 45 minutes
Transfer tomatoes and juices to a serving dish with high sides. Sprinkle some finely sliced garlic as an option
Serve with freshly baked focaccia or sourdough. Dip the bread in the juice and enjoy!