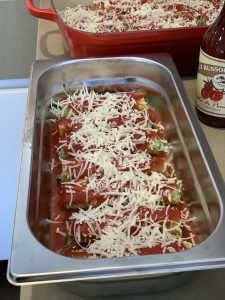 INGREDIENTS
1 cup (250ml) tomato passata
600g ricotta (low-fat, if desired)
250g frozen chopped spinach, thawed
2 tablespoons chopped flat-leaf parsley
2 tablespoons chopped basil
1/4 cup (20g) grated parmesan
salt and cracked black pepper
16 medium size cannelloni tubes

 

3/4 cup tomato passata, extra
1 cup grated low fat mozzarella
1/3 cup (25g) grated parmesan, extra
METHOD
Step 1
Preheat oven to 190°C. Lightly grease a 20cm x 28cm x 4cm-high ovenproof dish. Pour in tomato passatta, spreading evenly over base.

 

Step 2
Place ricotta, spinach, parsley, basil, parmesan, salt and pepper in a large bowl, and mix to combine.
Step 3
With a piping bag, fill the cannelloni tubes with the ricotta mixture.

 

The mixture should make approx. 16 tubes. Lay tubes side by side in the dish leaving some space in between to allow for expansion. Spoon over extra tomato passatta to coat. Sprinkle with cheeses and bake for 25 minutes or until golden.