TRADITIONAL GREEK SALAD RECIPE
INGREDIENTS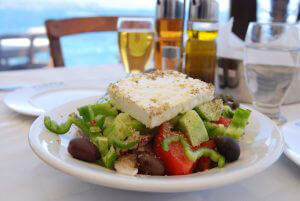 4x Truss Tomatoes (Roma Tomatoes can also be used) cut in to wedges
1x Continental Cucumber, halved length ways and then sliced across
1x Green Capsicum, deseeded and thinly sliced
1x Red Onion, thinly sliced
200g Kalamata Olives, preferably seed included but can be pitted
300g Greek Feta Cheese thickly Sliced
Dressing
60ml (1/4cup) Extra Virgin Olive oil
2x Table spoons of Red Wine Vinegar
1x Table spoon of dried Greek Oregano leaves
Salt & Pepper
METHOD

Combine the tomatoes cucumbers and olives in a large bowl. Drizzle 3/3 of the olive oil, followed by the vinegar and gently toss until combined.
Layer the capsicums, onion, and feta on top.
Drizzle the rest of the olive oil and sprinkle the oregano over the entire salad.
Serves 8
Preparation 15 minutes


Earth Markets App
Rewards

DOWNLOAD OUR APP 

FOR REWARDS AND SPECIAL OFFERS 

We value our customer's loyalty and would like to reward

them for supporting their Local Fruit Shop, Earth Markets.

Therefore we have introduced a loyalty card available only

through our app. The Earth Markets app is available for

Android or iPhone.