INGREDIENTS
– 500g pack of Penne pasta cooked in salted water al dente and drain the water out as per our video on the Tsambica & Voulla YouTube channel
– 3 tbsp first cold pressed extra virgin olive oil
– 1 large brown onion or two small, diced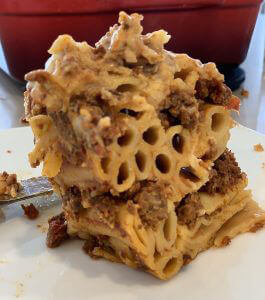 – 3 garlic cloves, peeled and chopped
– 500g beef mince
– 500g pork mince
– 1 ltr Passata sauce
– 2tbsp tomato paste
– 2 tsp salt
– 1/2 tsp pepper
– 2 tbsp basil
– 1 tsp cumin
– 2 dried bay leaves
– 2 cinnamon sticks
– 2 tsp ground nutmeg
– 1 whole nutmeg for grating
– 2 large eggs
– 250g parmesan cheese grated
– 3 /4 cup butter
– 1 cup all-purpose flour
– 1.2ltr milk
– You will need a deep baking dish approx. 30cm square in size or similar
prep time: 1hr    cooking time:45mins    serves:12
INSTRUCTIONS
Preheat oven to 180 degrees C.
In a large saucepan, heat the oil, sauté the onion and garlic until clear in colour, add mince and brown until all juices are absorbed.
Add passata, tomato paste, salt, pepper, basil, cumin, cinnamon stick and bayleaves. Stir well to combine. Cook for 5 minutes and turn the heat off.
Seperate the eggs, keep the egg yolks aside for the béchamel and whisk the whites and add them to the pasta as well as 1/4 tsp of the ground nutmeg.
In the baking dish, scoop some of the liquid from the mince sauce and spread on the bottom of the baking dish, its ok if some of the mince gets transferred over as well. Add 3/4 of the pasta and sprinkle with 50g of the grated parmesan cheese. Grate some of the nutmeg over the top.
Pour the mince sauce over the pasta and spread it evenly with a spatula, add the rest of the pasta and sprinkle 50g of the grated parmesan cheese. Grate some of the nutmeg over the top.
Using the same saucepan you've prepared the mince sauce (no need to wash or rinse it), heat butter in medium heat until melted and shimmering but not smoking. Stir in flour, and cook until golden. Gradually add the milk, whisking continuously. Continue cooking, stirring occasionally, over medium heat until smooth and thick. Take off the heat, add the remaining grated parmesan and a tsp of nutmeg. Add the two egg yolks and whisk well to combine.
Pour the béchamel over the pasta dish and spread evenly. Grate some of the nutmeg over the top. Bake the Pastitsio in the pre heated oven for about 45 minutes or until golden brown. Remove from heat and set aside for 15 minutes. Cut into square pieces and serve.
Pro tips:
1. You can prepare Pastitsio the night before. Cover tightly and refrigerate. Bake the next day when you are ready
2.This recipe makes a large amount for big gatherings or if you like leftovers!
3. You can freeze leftovers in portions. Thaw in fridge overnight. When ready, heat in a medium-heated oven until warmed through.
prep time: 1hr    cooking time:45mins    serves:12