What would you do with $1 million?
Spend $10 at EARTH MARKETS for your chance to win $1 million!
We are excited to announce details about our Winter Competition
The Cashed Up Capsicum is an in-store competition that commences Monday, 22 June 2015 and runs for five weeks, until Sunday, 26 July 2015.
You could be on your way to becoming one of five finalists in the draw to win $5,000 worth of travel and the chance to play for $1 Million.
We are also giving away in store vouchers of $100.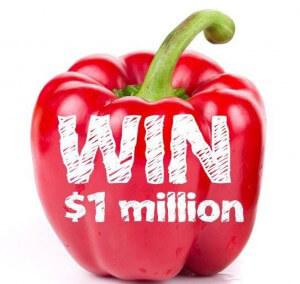 The more times you shop at EARTH MARKETS and spend $10 or greater, the more chances you have to enter!
Entering the promotion is easy:
Step 1.Shop at EARTH MARKETS and spend $10 or more to collect your Unique Code.
Step 2.Enter your details and unique code HERE
Step 3. Submit.
GOOD LUCK!!